Mission Statement
Bridges to Learning provides education, health and social development programs to empower impoverished Vietnamese children to change their world.
Who We Are
Bridges to Learning is a non-profit 501 c(3) corporation founded in September 2004 and based in Minneapolis, Minnesota.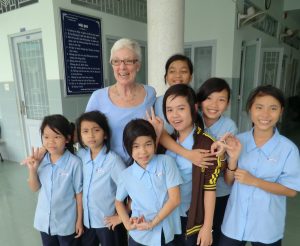 Founded in 2004 by Jerilyn Hirsch, and husband, Bob Mac Murdo, Bridges to Learning strives to provide resources for the education, well-being and social interaction of impoverished and under-served children in developing countries.
From those modest origins, Bridges to Learning has grown into an internationally recognized charity, providing sponsored support and funds to Anh Linh school's 229 children, awarding stipends for students attending public schools and expanding its work to the Viet Anh school.
Our Vision and Values
We seek to become an organization that makes a significant difference in the world through: Caring and committed donors who generate sufficient and substantial resources; ensuring our revenue is best used to finance services and support for impoverished children; knowledgeable, professional staff working in developing countries; giving older children a chance to start school in the first grade even if they have never attended school, in a manner that promotes their feelings of self-worth and bolsters their confidence.
Bridges to Learning leans on four values and core principles:
Hope – We finance and nurture the dreams and aspirations of very poor children and find their achievements give us hope in return.

Caring – We create a community of people who are concerned, responsive, engaged and pleased to help students overcome life challenges.

Nondiscrimination – We welcome all regardless of economic, circumstances or racial, religious, sexual or political identity.

Integrity – We walk the walk. We are stewards of Bridges to Learning and its mission. We inspire and take action that promotes wellbeing.
Who We Serve

Poor children in Vietnam have limited opportunities for education and few options to break the cycle of poverty. Primary education in many developing countries are not free, and the costs associated with education – notebooks, uniforms … even pens and pencils – are outside the reach of many children and their families.
Bridges to Learning's support for the Anh Linh and Viet Anh Schools allows any child who is undocumented, too poor, or too old to attend school for free. Many children commute to the schools, however, some without families or home are provided housing in the schools' dormitories at no cost.
Student and Educational Support
Bridges to Learning directly sponsors a total of 67 of the 289 Anh Linh students through the sponsorship program as follows:
Elementary School: 15 children in grades 1 through 5

Secondary School: 48 children in grades 6 through 12

College: 4 students
Additionally, Bridges to Learning donations through the Hope Fund have piloted other programs and currently support:
Anh Linh dormitory housing for 8 girls from primary through secondary school, and 12 girl university students;

The Breakfast Fund, which provides students with a nutritious and protein-rich breakfast every day at school;

The Eyeglass Fund, which supplies low-vision students with corrective eye wear;

The English Program, which contributes to the maintenance of quality English teachers and learning aides;

Materials and resources, such as books, blackboards, computers, equipment, and ancillary supplies;

Translation for the caring letters and other communications from sponsors;

Access to health care, including suicide prevention, counseling, surgery when needed, dental care and other wellness support.