You can share in the life of a child whose future may depend on the involvement of someone like you.
For just $42/month, each child receives:
Daily classes for half days that meet Vietnam's curriculum standards
Two nutritious meals a day
Two new uniforms a year
School books and supplies
Monthly haircuts
Health, dental and vision screening, and treatment as needed
Special programs and activities throughout the year
English classes, open library and games when not in scheduled classes
Sustaining Sponsorship
A sustaining sponsorship is a three year commitment because the students actually become invested in the relationship that you share with them. The relationship becomes an important part of your decision to sponsor rather than donate. A student is carefully selected based on the principal's belief that he/she would significantly benefit from a sponsorship relationship. Sponsorship provides the donor with the unique opportunity to:
Develop a relationship with their sponsored child by exchanging photos and letters
Know that they are supporting the happiness of a specific child who would otherwise face a bleak and limited future
See the amazing difference that a small amount of caring can bring
Group Sponsorship
Many individuals may want to sponsor a child but find the commitment of full sponsorship financially restraining. We have created a category, "Group Sponsor" wherein individuals can elect to partially support a sponsorship and still receive the benefits of communications and relations with a student at Anh Linh School.
Click the Sponsor a Child button on the righthand column to give a student a chance at a better life. Please select "Auto Renew" to create recurring support to a child at Anh Linh.
Bridges to Learning, Inc. is a 501(c )3 organization. Your donation (sponsorship) is tax deductible to the fullest extent allowed by law.
---
Sponsor Letters
The chance to change a child's life is at your fingertips. As a sponsor you will receive a letter, and a report card each year from your child. This correspondence gives you the opportunity to more fully understand the challenges and highlights your student is going through. Here is an example of the heartfelt connection you can gain from the letters you receive during your sponsorship.
---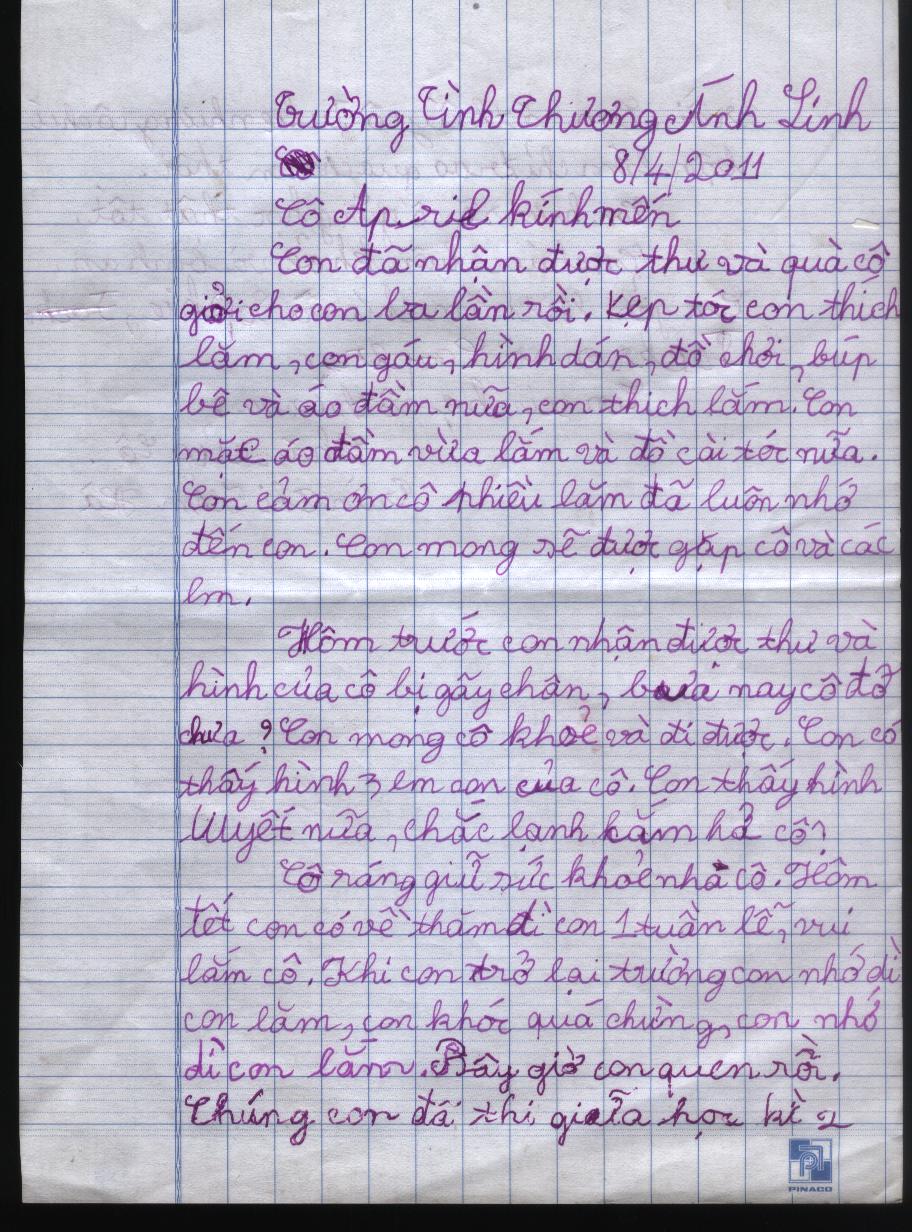 Tan Thuan, December 3, 2010
Dear Sir and Madam,
My name is T.M. Tong.* This year I am 13 years old. I am in 6th grade at the Anh Linh School. I thank you very much for helping me to go to school. I like going to school here. The teachers treat us very well.
On November 20th was a day that was very beautiful. I was able to to get to know the teachers and other students better. We are preparing for the first term exams carefully, every morning we are preparing for the first term exams. After we take the exams we get to wear Tet (Lunar New Year) clothes and take a Tet break.
For me, I don't have mom and dad anymore. Now I live with my grandmother and my aunt. My grandmother is very old and cannot do anything. She only knows how to go around the house. My aunt goes to work every day. There are times when grandma gets high blood pressure. The whole family takes care of grandma, all of the money is used to take care of her, even if the money needs to be borrowed. For me, my friends are very important, I have a lot of friends, and I've been through a lot of sadness and happiness. There are times when I get angry and mad. I still remember once when I was drinking water at the water stand, and my friend Loc let me watch a really good cartoon, I accidentally tipped over the pitcher of water on the dvd, and made the dvd wet. My friend took the dvd back and didn't want to play with me anymore. On that night, I called my friend but my friend didn't pick up. I called two or three times but my friend didn't pick up. I feel that my friend is arrogant, therefore I decided to stop playing with Loc all together. The other day, I was down by the water stand, I remember times that my friend and I had together, at that time that friend came out of the school, I was pretending not to know him. And that friend actually apologized to me, and from then on we have become even closer friends. I also have lots of good memories playing soccer with my friend Loc. During those times we kicked the ball very well together. There are times when one of us played poorly and the other rescued. Those are some of the sad and happy stories we have.
I dream to become a very good engineer. And to rebuild the house that I live in now and to help grandmother get well.
Signed,
T.M. Tong*
*Name changed to protect identity