News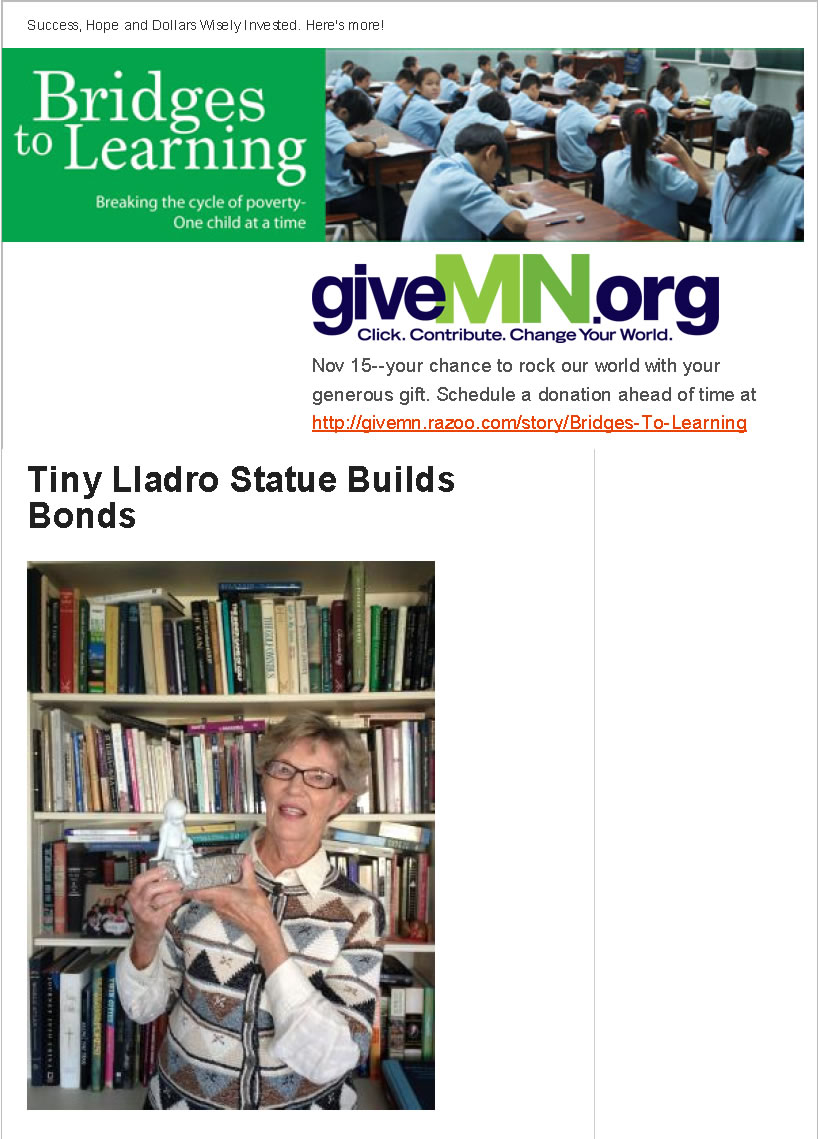 Nov 10--Bridges to Learnng fundraising gala on October 26, 2012 at the Sofitel, Bloomington MN Lucy Wilhoit of St. Paul MN USA became the proud owner of the tiny Lladro statue signed by the Lladro brothers in Spain and delivered via Singapore.
Shreya Shankar, president of the Singapore American School (SAS) Outreach Vietnam Service club arranged the donation of the valuable signed statue as a gesture of solidarity with Bridges to Learning, a US based program that provides sponsors, donations, and support for the Anh Linh school in vietnam.
Later this year, the 42 Singapore club members of the SAS Outreach Vietnam Services club will travel to HCM Vietnam to help the abandoned and impoverished children with school lessons, after school activities and special projects. The club has provided new computers to Anh Linh and has kept the computer lab running for the past three years.
"We love having the support of the students and their families in Singapore for this amazing school where impoverished and abandoned children can obtain an education and pathway out of poverty," states founder, Jerri Hirsch of Minneapolis, MN USA.
The financial support of Bridges to Learning, SAS Outreach Vietnam Club and now Lladro, provides more than 400 needy children with education, meals, uniforms, school supplies, eyeglasses and medical care. Anh Linh children with no families are provided shelter in the school's dorm. To help move children from poverty to hope, contact Peg Thomas at This email address is being protected from spambots. You need JavaScript enabled to view it. or go to www.Bridges2Learning.org to donate or "Like" us at Facebook.com/Bridges2Learning

Bridges to Learning friends and donors have been meeting over the past few months to enjoy ethnically themed mouth-watering meals at homes around the Twin Cities. Started as a fundraiser at the 2011 gala, these dinners are fostering relationships and community between supporters of the Anh Linh students. We are excited to see these meals turn into a great success!
Kim-Anh Tong and Jon Cohen hosted the first dinner - Indian themed - at their house. Groups of Bridges to Learning supporters gather around the dinner table. Many participated in getting Indian henna painted on their hands after the meal!
Other meals included a french, cajun, Somali, and a BBQ dinner.
Diane Ingersoll, Lisa Van Anh, Jon Cohen and Kim-Anh Tong, sponsors and volunteers
Donovan McCain & Jade Cohen, volunteers, selling corks for the wall of wine
Melinh Dancers
Board member, David Leckey
Wall of wine
Bill Cecchi, sponsor, and friend
The Sherman Family! Jim Sherman (middle) is a Vietnam Vet and is a sponsor
Beth Cecchi, volunteer and sponsor. Additionally, decorator for the 2011 gala.
Decorations handmade by volunteer and sponsor, Beth Cecchi
Diane Ingersoll and Lisa Van Anh, sponsors
Jerri Hirsch and Bob Mac Murdo (Founders) with valued sponsors and donors, John & Barbara Sorich
William Etter, sponsor
Peg Thomas, Executive Director of Bridges to Learning
Silent auction items
John & Joyce Johnson signing in for the event. John is a board member.
Mark Grimme, sponsor, and friends
Mivi Nguyen, high school vocalist and Brad Sattin, local KSTP News Anchor and Gala MC
Reviewing the food and wine items at the silent auction
Decorations handmade by volunteer and sponsor, Beth Cecchi
George and Susan Niece
Silent auction
Jenny Engh, table captain and strong supporter of B2L
View of the silent auction
Tong Pham's friends and family
Family and friends of Tong Pham, board member
Liem Nguyen (Board Chair) and friends
October 26, Friday night from 6:30-10:00pm Sofitel Hotel in Bloomington: More than 200 guests and 30 volunteers gathered together at the Sofitel in Bloomington on October 26, 2012 to feast and to bid on items. Almost $45,000 was raised to benefit the children who attend Anh Linh and other schools in Vietnam. This marks the fifth gala investing in hope.
The evening started with a wine raffle supported by Worldwide WineCellars and South Lyndale Liquors, and a silent auction banquet of items gathered by Katie Wilhoit, Kim-Anh Tong, Robyn Gray, Christine Martin and their crew of volunteers. Beth Cecchi again dazzled us with exquisite decorations, flower arrangements and unique table settings. ProLitho's Yen Le and Jennifer Christiansen provided the graphic which fine artist Eric Waugh translated into a brilliant original painting for the live auction. The Asian inspired meal by chef Mark Crane was topped only by the marvelous entertainment.
Brad Sattin (KSTP Anchor) guided us through videos, slides and visions of the children at Anh Linh school in Vietnam. We were mesmerized by Vietnamese traditional dances by the MeLinh dancers and the passionate rendition of "Imagine" by local singer Mivi Nguyen. We learned about how Bridges to Learning connects people from across the globe to the Anh Linh school through a video by Deacon Warner featuring founders Jerri Hirsch, Bob MacMurdo and sponsors John Sorich, Mary Jane Madden, and David Leckey.
We auctioned off tickets to the Madonna concert on Nov 3rd, for a Kindle Fire and for a Sounds of Blackness concert and a Mary Black concert.
A lively live auction by Col Kurt Johnson had us rolling with merriment as he describes items such as skydiving and going to the farmer's market with chef Tammy Wong, and helped our guests procure a week's stay at a cozy home in the Caymen Islands. The event was culminated with the auction of a jade cuff fashioned by John Sorich of Diamonds Direct on 50th and France in Edina.
Please join us as we celebrate our 10th year of acting locally to make a global difference in the lives of abandoned streetchildren in Vietnam.
Give to the MAX Day is November 15th. GiveMN.org hosts this special event every year as a way to connect individuals and businesses to non-profit causes around the state. Bridges to Learning has the opportunity to receive matching grants and the non-profits who raise the most money can win up to $15,000 from GiveMN!
Help us double our money: donate at http://givemn.razoo.com/story/Bridges-To-Learning on November 15th.
Jerri Hirsch and Bob Mac Murdo, Bridges to Learning Founders, were recent panelists at a forum sponsored at the Humphrey School of Public Affairs on "How (and Why) I Started My NGO." They were joined by other Minnesota-based globally-operating social entrepreneurs.
Panelists included:
Jeff Hall, One Village Partners (based in Minneapolis, working in Sierra Leone)
Michele Boston, No Time For Poverty (based in Saint Paul, working in Haiti)
Segundo Velasquez, Mano-a-Mano (based in Mendota Heights, working in Bolivia)
Michele Gran, Global Volunteers (based in Saint Paul, working globally)
Jerilyn Fosdick Hirsch & Bob MacMurdo, Bridges to Learning (MPLS, work in Vietnam)
Mark Cross, MATTOO (based in Minneapolis, working globally)
Jan B. Hansen, Educate Tanzania (based in Chaska, working in Tanzania)
Discussion Facilitators: Kate Kelsch, Amherst H. Wilder Foundation and current MINN President Paul Vliem, Humphrey School Master of Public Policy 2011.
Panelists discussed their inspiration to found their own organization, the assessment tools they used to find gaps not covered by other NGOs, & the challenges & setbacks they faced in starting their organizations. This event is part one of a series on Minnesota-based social entrepreneurs tackling global issues.
See video at
http://mediamill.cla.umn.edu/mediamill/embedqt/134163.