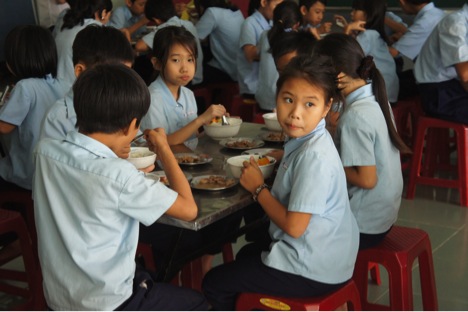 Bridges to Learning is a non-profit 501 c(3) corporation founded in September 2004 and based in Minneapolis, Minnesota.
Bridges to Learning provides education, health and social development programs to empower impoverished Vietnamese children to change their world.

Upon retiring, our founder, Jerilyn Hirsch, decided she had a mission to give back a measure of the benefits she received from having plentiful opportunities and a successful career. Jerri was called to Southeast Asia and Vietnam in particular by two very strong forces; first, her late husband had been a peace activist during the war in Vietnam and second, a Vietnamese neighbor and friend who left Vietnam before the war ended introduced Jerri to the Anh Linh School's director Cam Thuy. In late 2003, Jerri conducted an exploratory visit to the school to meet Thuy and the children at Anh Linh. On her second day in Vietnam, Thuy asked Jerri to teach a class. Thus began a relationship with Jerri that has only grown stronger with time.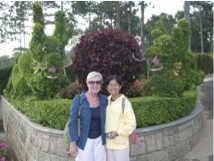 In 2004, Jerri developed an English program for the school and lived in Saigon as a teacher and volunteer for the next 15 months. Jerri and her husband Bob Mac Murdo set up Bridges to Learning as a modest grass roots effort to support the children of Anh Linh School in 2004. At first the number of sponsors was small, consisting mainly of Jerri's friends in Minnesota. However as support and activities for Anh Linh School have expanded, the network of sponsors and donors has grown over the years and is now attracting national and international support with contributors coming from Europe, Asia and across the United States.
Today, Bridges to Learning provides sponsored support to 257 children at Anh Linh school and 122 who are given stipends to attend area public schools.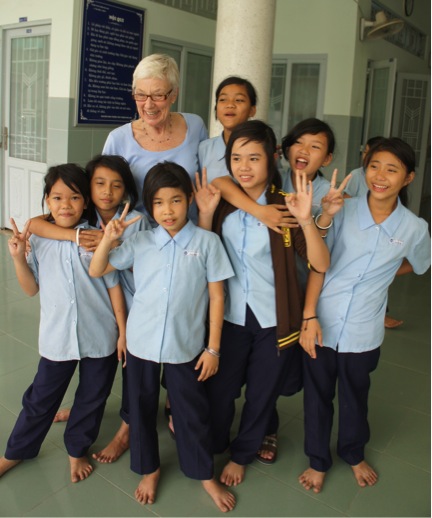 "We initially focused on raising funds to support the children of Anh Linh so they could attend the school. Anh Linh at that time only offered classes for children in grades 1-5 of all ages," recalls Jerri Hirsch. However, during Jerri's time at Anh Linh she recognized that there was much to be done for the children. Many children in her English classes had no breakfast in the morning which meant that by class time they were hungry. Jerri organized the "Breakfast Fund" to provide a healthy start to the day for children not getting breakfast at home. The school provides a lunch to all students as an extension of the sponsorship program. You can read about the other benefits provided to the children by following the "Sponsor a Child" link.
Jerri  saw the need to address wellness issues including eye exams. She created a program to test the children's eyesight and provide eyewear for those who needed corrective lenses. These activities and many more are examples of Bridges to Learning's values and core principles:
Hope: We finance and nurture the dreams and aspirations of very poor children and find that their achivements give us hope in return.
Caring: We create a community of people who are concerned, responsive, engaged and pleased to help students overcome life challenges.
Non-Discrimination: We welcome all regardless of economic circumstance or racial, religious, sexual or political identity.
Integrity: We "walk the walk." We are stewards of Bridges to Learning and of our mission. We inspire and take action that promotes wellbeing.