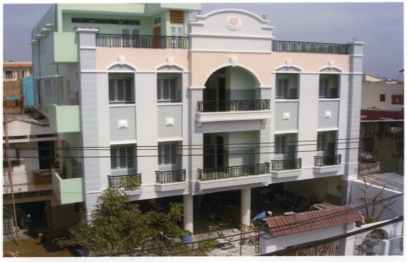 Bridges to Learning has grown from its initial support of a few students to supporting programs that maintain the entire Anh Linh School student body and teachers. These programs include: Building Schools, Student & Educational Support, Public Understanding, Creating Partnerships, and School Asset Management.
Building Schools
As Jerri was completing her stay in Saigon and her teaching at Anh Linh in 2004, the initiative to add three more grades, levels 6 – 9, was well underway. From early 2005 through 2006, Bridges to Learning raised over $100,000 to support the construction of a beautiful new school completed in March 2007.
The program was such a success that Cam Thuy received approval from the Vietnam government to rebuild the old primary school. Thus the demolition of the old classrooms began and renewed fund raising efforts begun.

Out of the rubble came a new elementary school. "Wow" said Jerri when she saw it in 2009.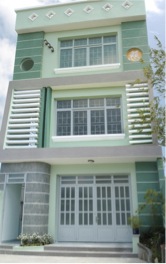 The new classrooms provide abundant light and air for a much improved learning environment. Bridges to Learning is continuing to help Anh Linh plan for its future capital needs. Anh Linh has a plot of land between its existing buildings and is contemplating how to best proceed with expansion.
Student and Educational Support
Bridges to Learning directly supports a total of 257 of the 401 Anh Linh students through sponsorships and other donations as follows:
Elementary School: 185 children in grades 1 through 5
Secondary School: 94 children in grades 6 through 10
Public school tuition support: 122 children
Additionally, Bridges to Learning sponsorships and donations through the Hope Fund have piloted other programs and currently support:
Anh Linh dormitory housing for 30 middle school girls and off-site accommodations for 10 boys
The Breakfast Fund, which provides students with a nutritious and protein rich breakfast every day at school
The Eyeglass Fund, which supplies low-vision students with corrective eyewear
The English Program, which contributes to the maintenance of quality English teachers and learning aides
Materials and resources, such as books, blackboards, computers, equipment, and ancillary supplies
Translation for the caring letters and other communications from sponsors
Access to health care, including suicide prevention, counselling, surgery when needed, dental care and other wellness support
Public Understanding
Bridges to Learning gathers information that can be useful for strategic decision-making and also uses the letters and emails from students and schools in Vietnam to help donors understand the needs of the Anh Linh students. Bridges to Learning staff create opportunities that help donors act locally, and also act globally with these increased connections to the Vietnamese communites. Fostering understanding and building heartfelt connections is part of the Bridges to Learning mission.
Collaborations & Partnerships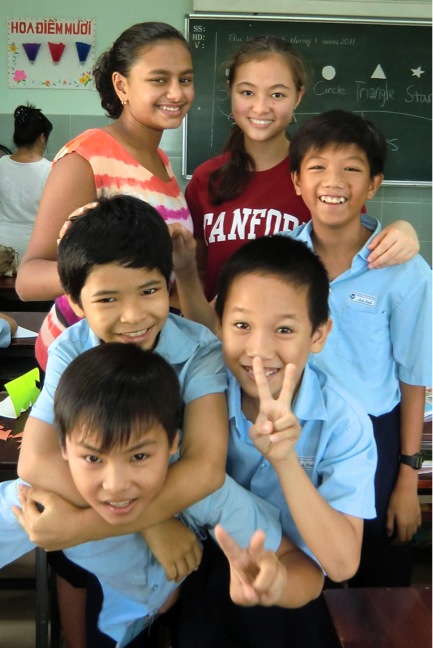 As one of a relatively small number of organizations supplying resources to poor children in Vietnam, Bridges to Learning is uniquely positioned to help more educational organizations than Anh Linh School. Bridges to Learning initiates collaborations and partnerships to carry out our mission. We seek partners to develop leadership capacities in the schools we serve.
Bridges to Learning has helped the internationally focused Singapore American School (SAS) partner with Anh Linh Free School. Students from SAS help Anh Linh students with their English and other academic studies during their periodic trips to the Anh Linh School. They also build websites, maintain technology, and donate equipment, books and supplies. Bridges to Learning continues to expand its partnerships with other schools in Vietnam.