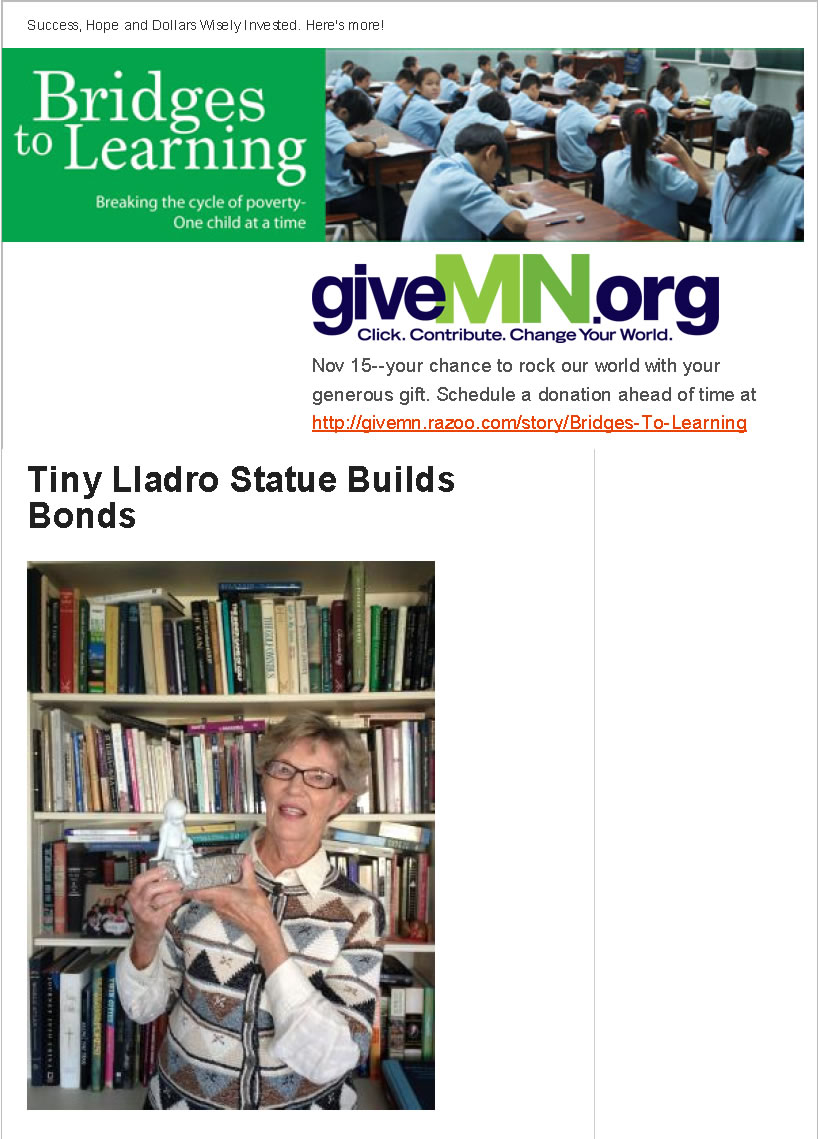 Nov 10--Bridges to Learnng fundraising gala on October 26, 2012 at the Sofitel, Bloomington MN Lucy Wilhoit of St. Paul MN USA became the proud owner of the tiny Lladro statue signed by the Lladro brothers in Spain and delivered via Singapore.
Shreya Shankar, president of the Singapore American School (SAS) Outreach Vietnam Service club arranged the donation of the valuable signed statue as a gesture of solidarity with Bridges to Learning, a US based program that provides sponsors, donations, and support for the Anh Linh school in vietnam.
Later this year, the 42 Singapore club members of the SAS Outreach Vietnam Services club will travel to HCM Vietnam to help the abandoned and impoverished children with school lessons, after school activities and special projects. The club has provided new computers to Anh Linh and has kept the computer lab running for the past three years.
"We love having the support of the students and their families in Singapore for this amazing school where impoverished and abandoned children can obtain an education and pathway out of poverty," states founder, Jerri Hirsch of Minneapolis, MN USA.
The financial support of Bridges to Learning, SAS Outreach Vietnam Club and now Lladro, provides more than 400 needy children with education, meals, uniforms, school supplies, eyeglasses and medical care. Anh Linh children with no families are provided shelter in the school's dorm. To help move children from poverty to hope, contact Peg Thomas at This email address is being protected from spambots. You need JavaScript enabled to view it. or go to www.Bridges2Learning.org to donate or "Like" us at Facebook.com/Bridges2Learning